Main content starts here, tab to start navigating
Menus
Slide 1 of 11
Slide 2 of 11
Slide 3 of 11
Slide 4 of 11
Slide 5 of 11
Slide 6 of 11
Slide 7 of 11
Slide 8 of 11
Slide 9 of 11
Slide 10 of 11
Slide 11 of 11
Enjoy one of our ever-rotating, always new and refreshing features of the week!
Feature Draft
Allagash Bourbon Black BBA Stout

This came out of our cellar!!! Belgian Style Stout with flavors of roasted malt, bitter chocolate, roasted coffee and some coconut and vanilla notes abound. The finish is dry, roasty and warming. 9.5% ABV

12 oz $12.00
Can & Bottle Features
GRIMM Magnetic Tape Juicy IPA

Juicy IPA brewed with Mosaic and Motueka hops.

16oz Can $7.00
It's Tuesday and that means one thing... It's TACO TIME!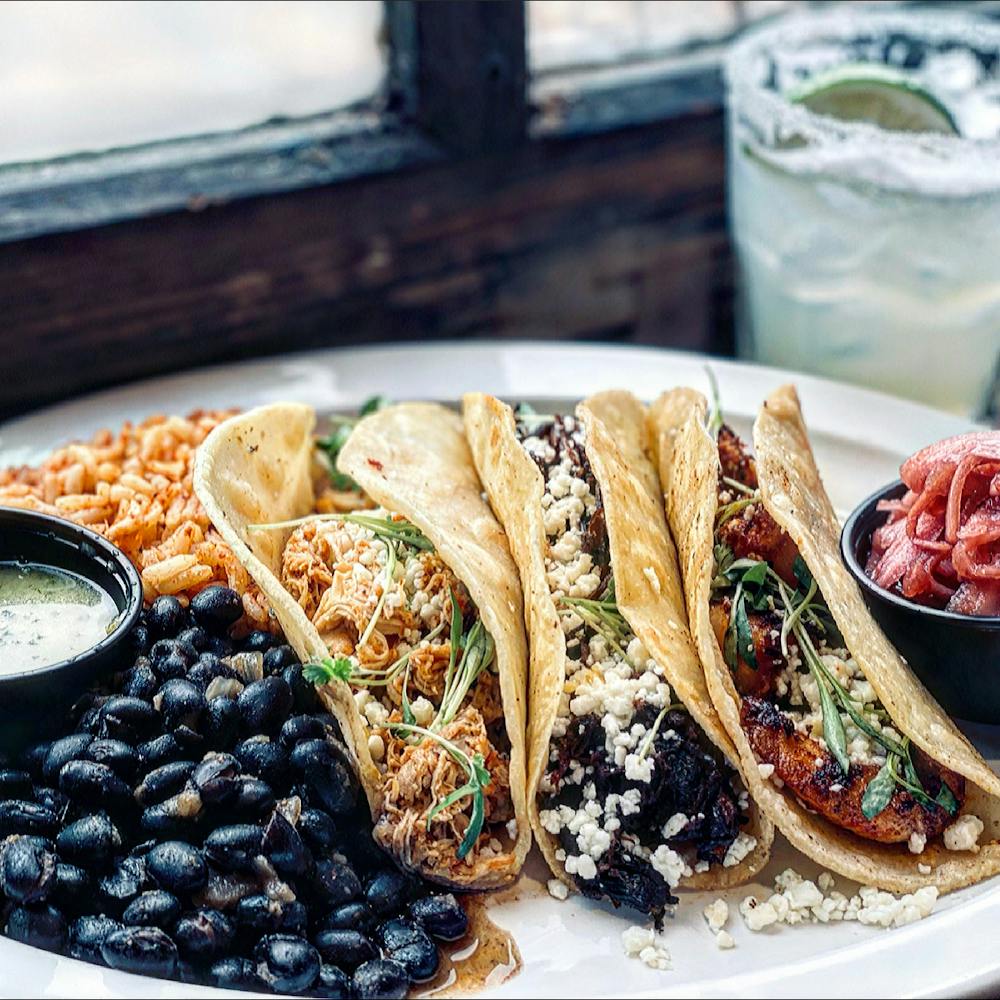 Taco Tuesday Option #1

Choose any combination of three tacos (Beef Barbacoa, Chicken Tinga, Grilled Shrimp, Tilapia Fish). Served w/ black beans and Tex Mex rice, salsa verde, pickled onions, and a 16oz can of Lonerider True Lime.

$20.00
Taco Tuesday Option #2

Choose any combination of three tacos (Beef Barbacoa, Chicken Tinga, Grilled Shrimp, Tilapia Fish). Served w/ black beans and Tex Mex rice, salsa verde, pickled onions, and a house margarita.

$20.00
Food
Bar Snacks
Times Nachos

With fresh jalapeño, cilantro, cheddar and jack cheese blend, pico de gallo, sour cream, and guacamole

$12.95

With your choice of: Chicken Tinga, Black Beans, The Pit Authentic BBQ's Chopped Pork (Al Pastor or Barbacoa $3.00)

Devils on Horseback

Bacon wrapped, goat cheese stuffed figs, aged balsamic

$8.95

gluten free

Tim's Mozzarella Sticks

Hand-breaded and fried whole milk mozzarella sticks, served with Pizza Times dipping sauce

$8.95

Fried Pickles

Served with house-made ranch

$6.95

vegetarian

Guacamole & Pico

Made fresh daily from Haas avocados with house-made pico and tortilla chips

$8.95

vegetarian

Times Peruvian Grilled Wings

Char-grilled wings and drumettes seasoned with a blend of South American spices, served with Peruvian verde dipping sauce

$10.95

gluten free

Chicken Quesadilla

Chicken Tinga, melted cheddar and jack cheeses, served with pico de gallo and sour cream

$8.95

Add rice and beans for $2.00

Street Tacos: Mix & Match

Served on grilled corn tortillas with pickled onion, cilantro, cotija cheese, and salsa verde

Chicken Tinga Taco $2.95

Grilled Shrimp Taco $3.45

Barbacoa Taco $3.45

Al Pastor Taco $3.45

Tilapia Taco $3.45

gluten free

Barbacoa: slow-roasted spiced beef

$3.45

Al Pastor: marinated pork shoulder, pineapple

$3.45

Add pico de gallo

$0.50

Shrimp: bronzed gulf shrimp

$3.45

Chicken Tinga: pulled chicken, chipotle, grilled onions, and tomatoes

$2.95

Raleigh Times Bottled Ranch

You asked for it and we heard you! Now featuring 12oz bottles of our super secret, super tasty ranch you can take home!

$7.00
Plates
Hargett St. Noodles

Udon noodles, sautéed bok choy, snap peas, yellow squash, and a soy-citrus sauce, garnished with pickled carrots, and cilantro.

$12.95

Times' Beer Battered Cod

Flaky Atlantic cod dipped in our house PBR beer batter and fried until golden brown and crispy. Served with fries, tartar sauce, and lemon wedge

$13.95

Sustainably sourced seafood

Braised Pork Burrito

Our slow-roasted mojo pork rolled in a flour tortilla with rice and black beans, topped with enchilada sauce, cheddar, green onions, and fresh jalapeños

$11.95

Salmon Fried Rice*

Ginger-soy glazed salmon, stir-fried rice, chili flakes, soy sauce, sesame oil, edamame, and a sunny side up egg

$14.95

Shrimp & Grits

Gulf shrimp, yellow onion, bell pepper, tasso ham, cream, gouda grits, scallion, Applewood smoked bacon

$14.95

gluten free

Crispy Chicken Strips

Marinated then fried local chicken breast served with a choice of bacon-honey mustard, or Times' BBQ sauce. Served w/ hand-cut fries.

$10.95

Want it tossed in buffalo or bbq sauce & served with blue cheese dressing? Just ask!
Sandwiches
Served with house-made chips or cucumber salad Substitute a simple salad for $2.50, seasonal vegetable for $2.50, house-cut fries for $.50, or loaded house-cut fries $2.50
Add cheese for $1.00, choose from American, Swiss, Bleu Cheese Crumbles, Cheddar

The Raleigh Times Burger*

8 oz. hand-pattied burgers are made with only the highest quality chuck that is ground in-house every day. Topped w/ lettuce, tomato, onion, and pickle, served on a locally-sourced potato roll

$11.95

6 oz. veggie burger option

$10.95

vegetarian

You ask for it, we'll put it on there. No bun, no problem. For an additional charge add cheese, fried egg, avocado, bacon, fried onions, or Vietnamese slaw to your burger.

Bangin' Shrimp Po' Boy

Seasoned fried shrimp, lettuce, Vietnamese slaw, sesame oil, and a spicy yum-yum sauce on a sub roll

$12.95

Far East Reuben

Beer-braised corned beef, collard green kimchi, Swiss cheese, special sauce on grilled rye

$12.95

Fried Buffalo Chicken

Texas Pete buffalo sauce, Gorgonzola cheese, leaf lettuce, and tomato on a locally-sourced brioche bun

$11.95

Cuban

Our mojo pork, sliced ham, Swiss cheese, pickles, mustard on pressed Cuban bread

$12.95

Andy's Cheese Steak

Thinly-sliced sirloin, onions, melted American cheese on an authentic Amaroso Philly roll

$11.95

Sante Fe Chicken Wrap

Marinated grilled chicken breast w/ locally-sourced lettuce blend, pico de gallo, roasted corn, seasoned black beans, cotija cheese, and a creamy avocado ranch. Served w/ house made corn tortilla chips.

$11.95

Chicken Parm Sandwich

Breaded and fried chicken breast, smothered in our Pizza Times marinara and topped with melted mozzarella goodness. We have some really great features come through here, but this is one friends, is one of our faves!!!

$11.95

Fried Farm Egg*

Cage-Free NC farm egg, cheddar, sliced avocado, local tomato on sourdough

$9.95

Add bacon for $1.50

vegetarian

Flyin Hawaiian Chicken Sandwich

Grilled chicken sandwich with grilled pineapple, roasted red pepper, and toasted almond salsa. Topped with griddled ham and muenster cheese on a bed of arugula, sriracha aioli and a locally sourced potato bun

$11.95
Dinner Salads
For just a little more money, add grilled gulf shrimp, marinated tofu, salmon, or chicken breast to your salad.
Kale Caesar Salad

Local kale, pickled chilies, duck fat croûtons, Parmesan cheese, house-made Caesar dressing

$9.95

Chopped Salad

Chopped local lettuce blend, local tomato, screened farm egg, Gorgonzola cheese crumbles, avocado, bacon, scallion, and our famous house-made ranch dressing

$11.95

Southwest Salad

Local lettuce blend, house pickled jalapenos, pico de gallo, fried corn tortilla strips, grilled corn, cotija cheese, and avocado ranch dressing

$10.95

Brussels Sprouts Salad

Roasted Brussels sprouts, dried cranberries, arugula, goat cheese, toasted almonds, and a spicy honey-lemon dressing

$11.95
Desserts
Apple Tart

Warm cinnamon apples in a flaky pastry crust.

$6.00

Add ice cream for $1.00

Chocolate Torte

Flourless chocolate cake served with mixed berries and whipped cream

$6.00

Vanilla Ice Cream $1.00

Zach's Cheesecake

Always fresh, always rotating, fun flavors. Ask your server what today's tasty goodness brings!

$6.95
* Indicates that items may be cooked to order or may contain raw ingredients. Consuming raw or undercooked meats, poultry, seafood, shellfish, or eggs may increase your risk of food-borne illness, especially if you have certain medical conditions.
Kids Plates $5
Served with choice of side: Veggie sticks, yogurt & granola, house-made potato chips, diced fresh pineapple, or hand-cut french fries
Fried Chicken Tenders

All-Natural Hot Dog

Cheese Quesadilla

Mini Cheeseburger

Grilled Cheese
Raleigh Brewing Moravian Rhapsody Czech Pilsner — Raleigh, NC

Light & crisp with a gentle Saaz hop snap and a nice sweet grainy aftertaste, this Pilsner will certainly keep you coming back for more.

5.2% ABV

64 oz $24.00

16 oz $6.50

10 oz $4.00

Back Bay Californication West Coast IPA — Virginia Beach ,VA

Californication is a West Coast IPA featuring Simcoe, Centennial, and Mosaic hops. This blend gives a moderate bitterness with fruity notes of candied clementine, peach, and a healthy amount of pine.

6.5% ABV

64 oz $24.00

16 oz $6.50

10 oz $4.00

White Street Hoptimist IPA — Wake Forest, NC

The White Street IPA is a west coast IPA that showcases the bright aromatics of Amarillo and Citra hops. Mango and grapefruit dominate the nose and are balanced by a crisp American malt character.

7.5% ABV

64 oz $24.00

16 oz $6.50

10 oz $4.00

Raleigh Brewing Not another NEIPA

NEIPA beers are rather cloudy, almost orange-yellow in color, in such a way that they resemble a tropical fruit juice more than a beer, they have hardly any bitterness, and also very little gas.

6.2% ABV

64 oz $24.00

16 oz $6.50

10 oz $4.00

Wicked Weed Gueuzeberry Fruited Sour — Asheville, NC

Gooseberry, peach, & Gewurztramiber grapes neutral oak barrels

6.3% ABV

64 oz $64.00

12 oz $12.00

Deep River Twisted River Wit — Clayton, NC

A traditional Belgian-style witbier with spices. Notes of citrus and coriander weave together with our Belgian yeast strain to create a perfect balance of flavors that are subtle and enjoyable all year round.

4.5% ABV

64 oz $24.00

16 oz $6.50

10 oz $4.00

Two Pitchers Water Boy Radler — Raleigh, NC

Light and refreshing watermelon-lime radler.

4.2% ABV

64oz $24.00

16 oz $6.50

10 oz $4.00

Tobacco Wood Oft Go A Rye Belgian Dubbel — Oxford, NC

Full bodied and rich - distinct notes of caramel and rye, balanced with traditional Belgian strong ale spice and fruitiness. A contemporary take on a time-honored favorite.

8.2% ABV

64 oz $34.00

12 oz $7.00
Allagash White Belgian Wheat — Portland, Maine

Belgian-style wheat beer is brewed with oats, malted wheat, and raw wheat for a hazy "white" appearance. Spiced with a special blend of coriander and Curaçao orange peel, Allagash White upholds the Belgian tradition of beers that are both complex and refreshing.

5.2% ABV

64 oz $26.00

16 oz $7.00

10 oz $4.50

2020 Deep River Collaboration Without Representation Milk Stout — Clayton, NC

Bourbon Barrel Aged Imperial Milk Stout infused with coffee from Raleigh Coffee Company and chocolate from Videri Chocolate Factory in Raleigh. Aged for 12 months in Oak Bourbon Barrels.

9.6% ABV

64 oz $44.00

12 oz $10.00

Brue Print Pale Brue Eyes Pale Ale — Apex, NC

Light in body, the bold flavors of biscuit and honey balance out the bitter citrus, earth, and floral notes of our pale ale.

4.6% ABV

64 oz $24.00

16 oz $6.50

10 oz $4.00

Clouds Mean Girl Kettle Sour — Raleigh, NC

This sour is infused with raspberries and black currants.

5.5% ABV

32 oz $32.00

12 oz $6.50

Schilling Local Legend Cider — New York, NY

The perfect harmony of dry and sweet is in your hands. A cider that is as refreshing as a cool mountain creek and doesn't miss a beat.

5.2% ABV

64 oz $32.00

12 oz $6.50

Lonerider Shotgun Betty Hefeweizen — Raleigh NC

Shotgun Betty gives off a clove, citrus, and yeast aroma with a hint of bubblegum for those refined palates. Betty finishes medium-low in body.

5.8% ABV

64 oz $24.00

16 oz $6.50

10 oz $4.00

White Street Kolsch — Wake Forest, NC

Crisp and refreshing, the ale pours clear and gold with a fine, white head. Light and subtle pear and melon aromas.

5.2% ABV

64 oz $20.00

16 oz $6.50

Allagash Bourbon Black BBA Stout — Portland, OR

Flavors of roasted malt, bitter chocolate, roasted coffee and some coconut and vanilla notes abound. The finish is dry, roasty and warming.

9.5% ABV

12oz $12.00
Welcome to our cellar! These options are VERY limited!
Stouts, Porters, & Belgians
Ballast Point Coconut Victory at Sea Porter

Coconut Victory at Sea takes the popular Imperial Porter to another place. They added sweet roasted coconut to their robust porter brewed with Caffe Calabria coffee and vanilla, the perfect complement to this beer's subtly roasty intensity. 10% ABV

22oz Bottle $15.00

2017 Marshal Zhukov's Russian Imperial Stout

This Russian Imperial Stout is dedicated to Georgy Zhukov, arguably one of the finest generals of World War II. Opaque black in color, with notes of espresso, chocolate, dark toffee and hints of blackstrap molasses. 11.8% ABV

750ml Bottle $20.00

2017 Grimm Sumi Cacao Imperial Stout

"Even an imperial dessert stout must be balanced! Smooth with rich cocoa and well-hidden alcohol. Let it gradually warm in the glass to really show off this stout's layered complexity." 10.2% ABV

22oz Bottle $20.00

2017 Grimm Double Negative Imperial Stout

Double Negative pours jet black with burnt orange highlights. A long lasting tan head leaves abundant lacing. Aromas bursting from the glass include coffee, bitter chocolate, caramel, black currant and blueberry. Creamy and viscous on the palate, the flavor initially follows the nose. A pop of smooth bitterness comes after, and then a lingering, roasty finish. 10% ABV

22oz Bottle $25.00

2016 Grimm Sumi Ink Imperial Stout

Bourbon Barrel Aged Imperial Stout with Vanilla. 13.5% ABV

22oz Bottle $25.00

2017 Grimm Sumi Zest Imperial Stout

The Sumi base is back, this time in a non-barrel-aged treatment! The same luscious, chocolatey richness but with an orange zest aroma. Inspired by the classic "chocolate orange ball," this is the decadent dessert stout for chilly winter nights. 11.5% ABV

22oz Bottle $25.00

2017 The Bruery Share This : OC Imperial Stout

Share This: OC is a rich, imperial stout infused with orange-chocolate flavors. 11% ABV

22oz Bottle $25.00

2017 The Bruery Mash & Coconut Imperial Brown Ale

Bourbon barrel-aged imperial brown ale, Mash, stretching to new levels. Mash & Coconut features nearly 400lbs. of toasted coconut per batch, which ratchets up the complex, native coconut character and complements the oaky and vanilla notes that are imparted to the beer as part of its extensive maturation in bourbon barrels. 13% ABV

22oz Bottle $30.00

2017 Deschutes The Abyss Imperial Stout

Imperial stout brewed with black strap molasses, licorice with cherry bark and whole vanilla beans, 100% aged in tequila barrels for 10 months. 11.8% ABV

22oz Bottle $30.00

2016 Blackberry Farm Brune Belgian Brown Ale

Munich malt adds toasty, rich flavors and amber color to an herbal, mildly spicy brown ale brewed in the classic, monastic style. 6.3% ABV

750ml Bottle $20.00

2018 Boulevard Whiskey Barrel Aged Stout

Over-the-top but surprisingly approachable, this twist on the classic style starts with several types of malted barley, rye, oats and wheat. Robust flavors of vanilla, espresso, whiskey, chocolate and roasted grain are balanced by hints of date and plum, with just enough hops to round it all out. 11.8% ABV

750ml Bottle $10.00

2017 Founders Backwoods Bastard Scotch Ale

Expect lovely, warm smells of single malt scotch, oaky bourbon barrels, smoke, sweet caramel and roasted malts, a bit of earthy spice and a scintilla of dark fruit. It's a kick-back sipper made to excite the palate. 11.2% ABV

22oz Bottle $15.00

Hoppin' Frog Rocky Mountain Barrel Aged DORIS Russian Imperial Stout

Rocky Mountain Barrel-Aged D.O.R.I.S. is aged in very special Colorado whiskey barrels to add a super-smooth, buttery, and complex whiskey character to our D.O.R.I.S. The Destroyer. 10.5% ABV

22oz Bottle $30.00

Humboldt Black Xantus Imperial Stout

Barrel aged for 6 months in combination of Bourbon, retired Firestone Union and wine barrels and Infused with fair-trade, organic coffee from local roaster Jobella. 11% ABV

16oz Bottle $20.00

Victory Java Cask Imperial Stout

Rich aromas of coffee precede an inviting blend of sweet bourbon, oak and a hint of alcohol. A complex fusion of dark chocolate, roasted barley and vanilla is rounded out by robust coffee and a warming heat in this unique and very drinkable stout. 14.3% ABV

12 oz Bottle $15.00

750 ml Bottle $25.00

Prairie Bomb! Imperial Stout

Bomb! is an imperial stout aged on coffee, chocolate, vanilla beans, and ancho chili peppers. The peppers add just the right amount of heat to complement the intense coffee and chocolate flavors. 13% ABV

12oz Bottle $15.00

Mikkeller Beer Geek Brunch Weasel Imperial Stout

Imperial oatmeal stout brewed with coffee. Ingredients: Water, malts, hops, yeast and Vietnamese ca phe chon coffee. 10.9% ABV

11.2oz Bottle $15.00

Nebraska Black Betty Russian Imperial Stout

Aged in Whiskey barrels, this barrel aged version meshes the rich chocolates and the coffee-like aromatics with the sweet whiskey nose and drying character of the oak. Slightly behind on the palate are the hops, held in restraint by the wonderfully full mouth-feel and broad flavors brought on by the perfect blend of so many malted barley varieties. Ready to enjoy now and perfect for extended cellaring. 10.6% ABV

750ml Bottle $20.00

2014 Brouwerij De Halve Maan Straffe Hendrik Heritage Belgian Quadrupel

Straffe Hendrik Heritage is a special variety of the Straffe Hendrik Quadrupel, as it a one year oak barrel aged beer. The beer is brewed in autum and is only available in a limited edition. The combination of the spiciness and bitterness of the quadrupel with the subtle taste of wine and wood from the barrels is inimitable. Licorice and dark fruits like raisins, prunes and figs can also be discovered. 11% ABV

750ml Bottle $30.00

2016 Stone Give Me Stout Or Give Me Death Imperial Stout

Stout brewed with raspberries and blackberries from the VA commonwealth. 9.5% ABV

22oz Bottle $15.00

Ölvisholt Brugghús Lava Russian Imperial Stout

The active volcano Hekla is visible from the brewhouse door and occasionally, eruptions are visible from the Ölvisholt farm. The illustration resembles the view from the brewhouse door when an eruption occurs. Full-bodied, pitch black beer with a dense brown head. Richly flavored with notes of dark chocolate, roasted malt and smoke. 9.4% ABV

22oz Bottle $20.00

2015 Brasserie Dupont sprl Triomfbier Vooruit Belgian Smoked Beer

Organic beer, amber color, dry and bitter with a smoky note (specifically peat) in aroma and taste. This phenolic characteristic is obtained by using a small percentage of malt specially dried with Scottish peat (malt whiskey). 6% ABV

750ml Bottle $15.00

Les Trois Mousquetaires Grande Cuvée Porter Baltique

Robust dark lager inspired by Porters from around the Baltic Sea region. This beer is luxuriously round with a mild bitterness. The malts contribute flavors of coffee, chocolate, and vanilla. The use of cherry-wood smoked malt provides a subtle hint of smoke. 10% ABV

750ml Bottle $25.00

2016 Brasserie Dieu du Ciel! Grande Noirceur Russian Imperial Stout

The Grande Noirceur (Great Darkness) is a dense black beer with robust roasted flavours. Its imposing bitterness is balanced by the presence of complex malted, caramel notes. It takes its name from the conservative policies of mid-century Quebec. 9% ABV

11.5oz Bottle $15.00
Sours, Geuze, Saison, Wild
2017 Grimm Telekinesis Kettle Sour

Telekinesis is a hoppy, tart, and smashable kettle sour. Mosaic, Citra, and Falconer's Flight contribute peachy & tropical hop character while our no-boil process leaves a puckering hint of raw sourdough. 5% ABV

22oz Bottle $20.00

2015 Goose Island Lolita Belgian Wild Ale

Lolita is a pink rose colored Belgian style pale ale fermented with wild yeast and aged on raspberries in wine barrels. Aromas of fresh raspberries, bright jammy fruit flavors and crisp, refreshing body make Lolita ideal for beer drinkers fond of Belgian Framboise. 8.7% ABV

750ml Bottle $25.00

2016 Goose Island Gillian Farmhouse Ale

White Pepper Strawberry Saison. After a free rise fermentation with a Saison yeast strain, they add crushed white pepper, mashed fresh Michigan strawberries and Local Farmers market honey to create a dry, drinkable yet complex Saison variation. 9.5% ABV

750ml Bottle $30.00

2015 Boulevard Saison Brett Farmhouse Ale

Saison Brett, based on the very popular Tank 7, is assertively dry-hopped, then bottle conditioned with various yeasts, including Brettanomyces, a wild strain that imparts a distinctive earthy quality. Though this farmhouse ale was given three months of bottle age prior to release, further cellaring will continue to enhance the "Brett" character, if that's what you're after. 8.5% ABV

750ml Bottle $15.00

2017 Boulevard Love Child #6 Wild Ale

Boulevard's Love Child Series of 'wild' ales are barrel-aged with boisterous cultures. These wayward offspring can prove so complex that we employ gauges on the label to convey the intensity of three key personality traits, Funk, Sour, & Fruit. (No longer brewed) 9.2% ABV

750ml Bottle $25.00

2016 Paradox Skully Barrel No. 39 Salty Lemons Wild Ale

Sour golden ale brewed with lemons and salt, aged in oak wine barrels. 7.6% ABV

16oz Bottle $15.00

De Proef Zoetzuur Flemish Ale

From the Flemish translation for sweet-sour, this Flanders Red Ale is beautifully balanced. The sweet component is the light addition of Belgian Kriek (cherry) juice, while the sourness comes from the use of the lambic-like Brettanomyces yeast. This is a reddish-amber colored ale with an off white head. It has a complex aroma of fruit as well as a spicy earthiness from the yeast. It is medium bodied on the palate with sweet notes followed by lightly sour notes and a surprising dry finish. The subtle and elegant beer is a classic example of the brewmaster's art. 7% ABV

750ml Bottle $15.00

2015 Cascade Apricot Sour

This Northwest sour ale is a blend of blond ales that were aged in oak wine barrels for up to 14 months with fresh apricots. The 2015 growing season was one of the best in years with plenty of warm, sunny days that yielded beautifully ripened fruit with intense character. Flavors of fresh and dried apricot fruit are complemented by a tart acidity and lingering notes of apricot preserves. 7.2% ABV

750ml Bottle $30.00

2014 Cascade Figaro Sour

Blend of sour Blond ales aged in Chardonnay barrels for up to 18 months with white figs and lemon peel. Featuring complex flavors of dried figs, citrus peel, green grapes and apple skins, this NW style sour ale is ready to drink now, but will continue to evolve in the bottle for several years. 9.1% ABV

750ml Bottle $30.00

2016 Cascade One Way Or Another Sour

One Way Or Another is a blend of sour triple ales aged in oak wine barrels for up to 16 months with regional ingredients: Oregon marionberries and California Meyer lemons. With each brewery crafting their own blend, this limited offering illustrates how a single recipe can be interpreted one way or another. 7.9% ABV

750ml Bottle $30.00

2017 The Bruery Terreux The Wanderer Sour

Wine barrel-aged sour ale with blackberries and cherries. Then folded a small portion of our bourbon barrel-aged anniversary ale into it for additional layers of oak, vanilla and toffee, accentuating the dark fruit notes and delightfully sour tinge.

22oz Bottle $30.00

2016 The Bruery Terreux Sour in the Rye Sour

The character of the rye asserts itself with clove and pepper in the aroma and flavor, and contributes a full body not generally found in sour beers. Pleasantly sour with notes of tart cherry, rustic earth and vanilla from barrel aging. 7.7% ABV

22oz Bottle $25.00

2017 The Bruery Terreux Frucht: Peach Sour

Berlin-style tart wheat beer aged in oak foeders with peaches. 4.5% ABV

22oz Bottle $20.00

Brasserie Fantôme Saison

Fruity, complex saison beer from the Ardennes forest from a tiny farmhouse brewery very hard to find even in Belgium. 8% ABV

750ml Bottle $20.00

Stillwater Oude Bae Wild Ale

Sour ale with pinot noir grapes added & aged on french oak. 6.5% ABV

22oz Bottle $15.00

Brouwerij Oud Beersel Oude Geuze Vieille

Oud Beersel Oude Geuze notable hop and fruit character is much appreciated by beer fans. 6.5% ABV

11.2oz Bottle $15.00

Trinity Hopped Toddy Braggot

Inspired by chilling winter nights, this hopped braggot is made with 48% honey and 52% grains. The recipe was crafted with fresh ginger, lemon zest, Black & Orange Pekoe tea, then aged on bourbon barrels. 13.8% ABV

22oz Bottle $15.00
Bottles & Cans
Lager, Pale, Pilsner, Wheat, Blonde
NoDa Lager Days 16oz Can

$6.00

AMB Lager 12oz Can

$6.00

Amstel Light 12oz Bottle

$5.00

Pacifico 12oz Bottle

$5.00

Pilsner Urquell 12oz Bottle

$4.50

Oskar Blues Dales Pale Ale 12oz Can

$5.00

Birdsong Jalapeno Pale Ale 16oz Can

$8.00

Allagash White Wheat 16oz Can

$8.00

Wicked Weed Fresh Pressed Wheat 12oz Can

$6.00

Golden Road Mango Cart Wheat 12oz Can

$6.00

Lonerider True Lime Blonde 16oz Can

Blonde ale with salt and lime puree.

$7.00

AMB Blonde 12oz Can

$6.00
IPA
Epic Citralush NEIPA 12oz Can

7% ABV -- These juicy, hazy, hop bombs are packed to the brim with flavor.

$6.00

Hop Valley Bubble Stash American IPA 12oz Can

6.2% ABV -- Take a hit of these bright sweet fruit notes in this easy drinking bubbler. You won't want to pass this one!

$5.00

Goose Island Next Coast IPA 12oz Can

$6.00

Sycamore Juiciness IPA 16oz Can

$6.50

Bell's Official Hazy IPA 16oz Can

$6.50

Wicked Weed Appalachia Session IPA 12oz Can

$6.00

Wicked Weed Pernicious IPA 12oz Can

$7.00

Cigar City Jai Alai IPA 12oz Can

$7.00

Stone Delicious IPA 12oz Can

**Gluten Reduced

$6.00
Cider, Kombucha, Hard Coffee
101 Cider House Gunpowder Guava Cider 12oz Can

Gunpowder green tea, named for its unique appearance and prized for its earthy refreshing powers plus tangy guava, the ultimate in thirst-quenching fruit.

$6.00

STEM Paloma Cider 12oz Can

Fresh-pressed apple juice, grapefruit puree, key lime puree, agave, juniper berry.

$6.50

Austin Eastciders Watermelon Cider 12oz Can

$6.00

Austin Eastciders Blood Orange Cider 12oz Can

$6.00

AMC Roots Cider 12oz Can

Ginger and turmeric

$6.00

AMC Mystic Dragon Cider 12oz Can

Green tea, rhubarb, and strawberries

$6.00

Reverend Nat's Revival Amber Cider 12oz Can

$6.00

Reverend Nat's ¡Viva La Pineapple! Cider 12oz Can

$6.00

Sierra Nevada Strainge Beast Hard Kombucha 12oz Can

Passion fruit, hops, and blood orange. 7%ABV Gluten free - Organic

$7.00
Brown, Stout, Dunkel, Porter, Amber
Fullsteam Shenanigans Dry Irish Stout 16oz can

$6.00

Lynnwood Bill & Ted's Excellent Amber 16oz Can

$7.00

Flensburger Dunkel 11.2oz Bottle

$8.00

Green Man Porter 12oz Bottle

$5.00

Founders Porter 12oz Bottle

$6.00

Lefthand Nitro Milk Stout 16oz Can

$7.00

Lonerider Sweet Josie Brown 12oz Can

$5.00

Alesmith Speedway Stout 16oz Can

$8.00

Great Divide Yeti Imperial Stout 12oz Can

$6.00

Black Boss Porter 16.9oz Bottle

$7.00

White Pony Blend of Darkness Imperial Stout 11.2oz Bottle

$12.00
Belgians, Sours, Gose
Wicked Weed Watermelon Burst Sour 12oz Can

$6.00

10 Barrel Cucumber Crush Sour 12oz Can

$6.00

10 Barrel Raspberry Crush Sour 12oz Can

$6.00

Hi Wire Citra Gose 12oz Can

$6.00

Brouwerij Bosteels Tripel Karmeliet Belgian Tripel 750ml Bottle

Tripel Karmeliet is a labour of love. Of patience. Of passion. Brewed using a 3-grain recipe rediscovered from the 1679 Carmelite monastery, Tripel Karmeliet blends nature's gifts of barley, oats and wheat to produce a multi-layered tripel, refined yet balanced, with soft fruity notes and a surprisingly delicate taste.

$20.00

Unibroue La Fin du Monde Belgian Tripel 12oz Bottle

$8.00

Piraat Belgian Tripel 11.2oz Bottle

$8.00

Delirium Red 16oz Can

$10.00

Delirium Tremens 16oz Can

$10.00

Duchesse De Bourgogne 12oz Bottle

$10.00

Monk's Cafe Flemish Sour 12oz Bottle

$8.00

Duvel Belgian Golden Ale 12oz Bottle

$7.00

Corsendonk Pater Dubbel 12oz Bottle

$9.00

Chimay Blue 11.2oz Bottle

$10.00

Bosteels Pauwel Kwak 11.2oz Bottle

$9.00
Non-Alcoholic
Erdinger Weissbier Alkoholfrei (Non-Alcoholic) 12oz Bottle

$5.00

Lagunitas IPNA 12oz Bottle

A non-alcoholic, full-flavored IPA, dry-hopped with Mosaic & Citra hops. This confounding creation uses the same ingredients found in our highly-balanced IPAs (hops, malt, yeast & water), and thus the same deliciousness, but brewed without the ceremonial fez & ancient incantations that normally take it over the edge.

$6.00
Cocktails
RTB Bloody Mary

Vodka, House Pickled Green Beans, Pepperoncini, and Candied Bacon

$10.00

Add a 5oz side car of any draft beer for $2.00

Tennenbaum

Vodka, Citrus, Simple Syrup, and Fresh Basil, Topped with Sparkling Wine.

$9.00

Moscow Mule

Bedlam (Made in Durham, NC) Vodka with fresh Limes and Ginger Beer.

$10.00

Bloomsbury Lane

Gin, Cappelletti, Sweet and Sour, Orange Bitters.

$10.00

SunDown Sangria

Cabernet Sauvignon, Spiced Rum, Triple Sec, Freshly Squeezed Lime and Orange Juice, topped w/ Soda.

Glass $8.00

Carafe $24.00

SunRise Sangria

Rosé, passionfruit vodka, peach schnapps, fresh orange juice, lemon juice, & lime juice, topped with sierra mist.

Glass $8.00

Carafe $24.00
Wine
White Wine
Astica Chardonnay

Baked apple, and understated hazelnut aromas and flavors persist through a citrusy finish.

Glass $8.00

Bottle $24.00

Flatrock Pinot Grigio

Very light yellow with platinum reflections. Light aromas, fumes of citrus. Short and crisp palate with nice acidity.

Glass $8.00

Bottle $24.00

Peter Mertes Riesling

Crafted in the well-respected Rheinhessen region of Germany, this quality Riesling is crisp, clean and easy drinking. Floral and fruit aromas suggest sweet melon and honey with enough acidity to ensure a beautifully balanced and versatile wine.

Glass $8.00

Bottle $24.00

Casa Mateo Sauvignon Blanc

Casa Mateo Sauvignon Blanc is a mild, medium-bodied Chilean wine characterized by its pale yellow color and its moderately intense tropical fruit aroma. This wine is round and pleasant with an ideal level of acidity.

Glass $8.00

Bottle $24.00
Sparkling
JFJ Brut Champagne

A sparkling wine filled with the smells of apple, pear, touches of caramel, and yeast. The tiny bubbles fill the glass and invite one to taste this delicious treat.

Glass $8.00

Bottle $24.00
Red Wine
Casa Mateo Pinot Noir

Strong notes of raspberry, cherry, clove, and leather, smooth finish with elegant tannins.

Glass $8.00

Bottle $24.00

JW Morris Pinot Noir

This very fruit-forward Pinot Noir leads with notes of blackberry and smokey aromas. On the palate, the fruit really steps forward with intense berry flavors, balanced with vanilla and spice.

Glass $8.00

Bottle $24.00

Rockbrook Cabernet Sauvignon

This wine has a dark purple-plum hue with light berry aromas. Upon tasting, it coats the mouth with flavors of plum, cherry and fresh, sweet berries. A bit of spice, along with lingering fruit flavors and a hint of tannin, finish the wine.

Glass $8.00

Bottle $24.00

Revolution Malbec

Attractive red color with violet hues. Aromas of intense ripe fruit: plums ,cherries, blackberries and blueberries, combined with chocolate hints. In the mouth the sweet and round tannins increase its fruit sensation and balance. Wine of good intensity, concentration and long after taste.

Glass $8.00

Bottle $24.00

2018 Baron De Ley Rioja Rosado

Pale pink colour, and a nose packed with red-berry fruit and white blossom aromas. On the palate, elegantly flavoursome and very refreshing.

Glass $8.00

Bottle $24.00
Beanies and Tees
If you like the softest and warmest things on your head, we have got the beanie for you!
Raleigh Times Bar Beanie (Burgundy)

Ask your server to grab one for you or check out our retail stand at the front door!

$25.00

Raleigh Times Bar Beanie (Grey)

Ask your server to grab one for you or check out our retail stand at the front door!

$25.00

Raleigh Times Triblend Tee

Ask your server to grab one for you or check out our retail stand at the front door! (Various styles and sizes available)

$18.00

Cork Coaster Set of 4

$6.00

RTB 16oz Glass

$7.00

Bottle Opener

$5.00

Doggie Bowl

$9.00

Doggie Bandana

$5.00